Organizing your kitchen drawers can give you extra storage spaces when properly done.
No matter how small those drawers and cabinets are, your creativity will help you define how well and functional you want them to be.
Long Island Maids wants to offer some advice.
So here are some of the best possible ways of organizing your cabinet drawers to make them more functional;
#1 Install sink drawers that tip out
If you truly need all the spaces you can get then you need sink drawers that tip out because they are more convenient, and also give you more inner spaces to store some kitchen tools.
#2: Add a pocket organizer
One of the best possible ways of organizing your under sink storage space, is to add a pocket organizer.
This will even be easier if you have some sewing skills but if you don't, then you can get an over-the-door shoe organizer to perform the same tasks.
Pocket organizers can help you keep extra kitchen tools (especially smaller or tinnier ones.
#3: Add command hooks plus a small basket to the vertical space under your cabinet
One of the best possible ways to utilize your vertical kitchen space is to install command hooks and baskets that can hold some kitchen accessories.
You may want to add some vertical spaces to your horizontal kitchen drawers if you don't have them already.
#4: Invest in a rolling-shelf option
Pantry organization doesn't have to be in a traditional way, hence you can invest in smaller rolling kitchen drawer organizers that simply roll out when you open the cabinet.
You can easily find lots of pre-made rolling cabinets or get a handyman to help you build a customized one.
#5: Buy an over-the-sink shelf
One of the best possible ways of creating an extra counter space on top of your kitchen sink is to get a small shelf over it – it makes it very convenient to retrieve some kitchen tools and you wouldn't have to open drawers all the time.
#6: Utilize those bare sides of the cabinets
Instead of leaving them bare, why not install hooks to those bare sides (especially those facing your sinks) and hang some of your kitchen utensils on them?
#7: Hang a rail over your sink
If there is sufficient space above the sink, you can simply hang a rail from the ceiling and hang some of your kitchen utensils there.
#8: Hang corkboards on the inside of your kitchen's cabinet doors
One of the best possible ways of staying organized and making use of every bit of space is to install corkboards especially on the side of the cabinet door, it helps you organize those long plastic and metal spoons and bowls easily.
#9: Create a magnetic spice rack
You may want to consider hanging a sheet of magnetic tin inside your kitchen cabinets just to create a rack for your spices.
The magnet must be strong enough to hold some pieces of metal in place. Magnetic racks are quite common on refrigerator doors and the back, but nothing should stop you from using them to organize your pantry cabinet
#10: Make use of screw hooks in awkward corners of the cabinet
No matter how good you are in organizing your kitchen cabinets, there are some difficult corners that can prove difficult to use for storage, your best bet is to make use of screw hooks to turn such awkward corners into pot racks and for some other kitchen cabinet organizers.
#11: Make use of the Lazy Suzan cabinet
This is one of the best newest kitchen cabinet organizers that can help you optimize those awkward spaces that prove very difficult to use. Installing the lazy Susan cabinet will make difficult spaces more accessible.
#12: Add more shelves on top of existing shelves
Sometimes, the best way to provide more space for your kitchen gadgets is to add more space on top of existing spaces.
It is very important to make use of all vertical spaces if you want to stay organized.
Similarly, you should consider adding more shelves to your shelves if you want to create more vertical spaces and stay organized.
#13: Make use of pan dividers
One of the best possible ways of finding your pans more easily and get them organized is to stack them with the aid of pan dividers.
#14: Make use of a dividing file rack to organize lighter items easily
One of the easiest ways of organizing items such as baking sheets as well as your cooling racks is through the use of file racks. File rack helps to store and organize items in a vertical way.
#15: Make use of a table that can fold into the wall
Foldable tables are like foldable cabinets that occupy no space at all. If you can find this item customized for you then it will be a great addition to your kitchen organizers.
#16: Get a kitchen cart
If you have sufficient space in your kitchen, you can organize your kitchen much better with the addition of a cart.
A kitchen cart can serve multiple purposes, for instance, it can work as an extra counter, or simply as an extended storage area or probably a temporary bar for entertaining your friends and family.
#17: install a pegboard wall organizer
Perhaps one of the best ways to show your creativity is to create a pegboard by yourself and install it as a wall organizer in your kitchen. With a pegboard, you can easily keep all manner, sizes, and shapes of kitchen gadgets and get them whenever you want to use them.
If you can't make a pegboard by yourself, then you can get ready-made ones at an affordable price from a nearby store.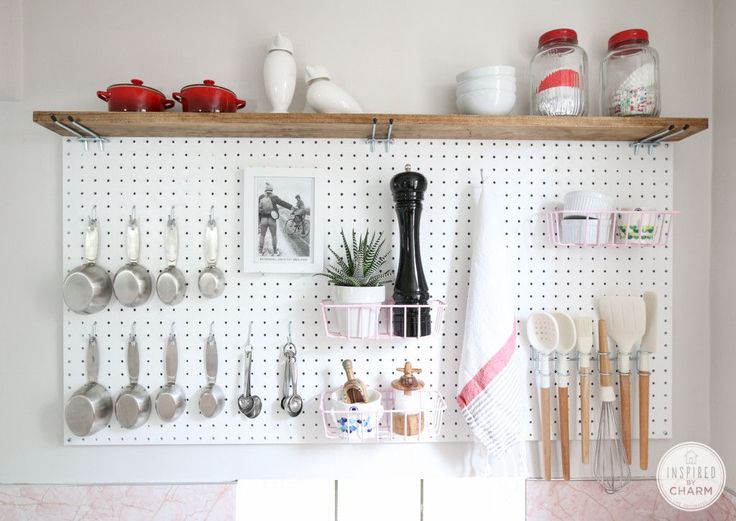 In conclusion, kitchen organization don't have to be costly and you don't need to move into a new home to start over.
It is all about being creative with what you have and adding some more functional options to the kitchen cabinets.
The addition of functional storage features such as a narrow rolling cart can do a lot to help you stay organized.