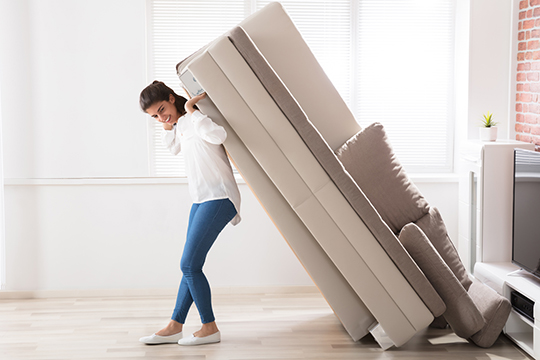 Moving out can be exciting, but you need to find out exactly what's included. Although you can say that you are finally out of your parents' control or your neighbour's rock n' roll partying every night, it does not end just there. It also includes the responsibility of moving your items out, because if you do not, nobody else will.
It will be a piece of cake if the items are as small and as light as a throw pillow but face it. There are your sofa, TV set, king-sized bed, etc. If this is the case, you will realize that moving out seems not exciting at all.
Knowing some tips on moving bulky items can put a smile on your face again. Although it takes some effort, you will see that you can get through it. What you need is to know some tips and get started.
Ask for Help
Seriously. If you cannot do it alone, ask for help. Imagining that you are Superman will not make you as strong.
Do not be shy because having broken bones to move these items out of the house is no fun. Also, do not ask just any passersby. You have to secure your possessions too.
Prioritize asking help from your family, relatives, friends, or someone you know who is trustworthy. If you are alone in your life or do not have someone you can depend on this matter, contact a reputable moving company.
Plan Your Action
Forgetting and losing items is the least that you want to happen when moving out. That is why having an inventory of all your furniture and belongings is handy in this situation.
You may argue that it will be impossible to forget furniture as massive as your refrigerator, sofa, smart TV set, etc. Having a checklist of your possessions will make the movers grateful.
If you have a plan, you can point which items to go first. Commonly, the heavy objects are the ones to go out first because the movers place them at the truck's back. The lighter ones are at the front.
If you do not have an inventory, you will only give your movers a headache because it will lead to disorganisation. It may also use up some of the truck space and even lead to damaged items when not appropriately placed in the truck.
Use Your Head More
Although you are physically incapable of lifting or carrying heavy items and furniture, you can at least use your brain. Now that you have an inventory, you need to judge each item you have.
Ask yourself the following questions:
How my massive furniture will fit through my door?
Which items should I carry myself (jewelry, money safe, keys, etc.)?
Will my few good friends and I be enough people to move my stuff?
Which of my items will I need movers to help?
Push
In case there is massive stuff that you need to move out yourself, push.
If you can push it to reach a car or a truck, do it.
If you need to lift the item, such as carrying it down the staircase, push it until it reaches before the stairs.
After that, ask for help to help you carry it downstairs if it is weighty for you.
Remove All The Extras
Now that you have asked a mover company's help, it does not mean that its employees who will be carrying your stuff are not humans at all. Consider that they have limited strengths. Thus, the least that you can do to help them do their job well is to get rid of the extra's attached to your massive items and furniture.
Before moving out, check the drawers of your furniture, and get rid of all the items inside. It is better if you can remove the drawers and shelves themselves. You do not want to cause accidents.
If you cannot remove them, tape them securely to not fall out to the mover's head while carrying it.
Also, remove the furniture covers, such as the bedsheet and the like. Get rid of any other stuff that can cause accidents, such as knobs, handles, etc.
If you can disassemble your furniture, do it.
Protect Your Belongings
As mentioned, when it comes to keys, jewelry, cash safe, and the like, you should be the one who will do the moving for these. However, it does not mean that you can disregard your other possessions. Your items and furniture are not safe from damage starting from when the movers lift them from their place until they move them into your new house.
Your items can bump into the door, wall, window, or other items inside the movers' truck. To save your expensive porcelain fountain from shattering and your hardwood sofa from scratches, protect them by placing them in bubble wraps, old newspapers, boxes, etc.
As you can see, if you have someone to help you transfer your stuff, moving out is not much of a problem. All you need to do is ask for help,  plan your actions, and take the necessary steps to protect yourself and your furniture. Doing these tips will ensure that there will be no forgotten items and your bones are safe.