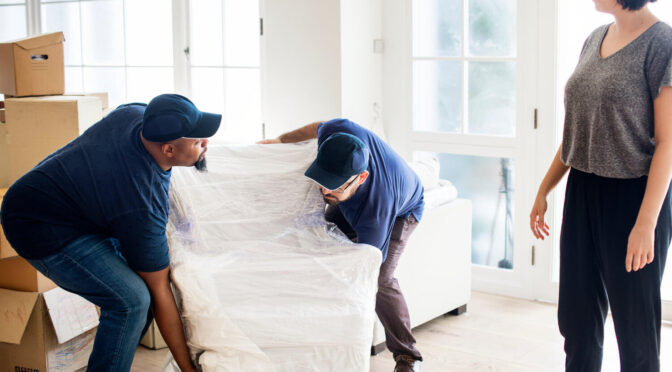 Hiring a moving service can be costly and expensive. However, if the price is right and you are getting the value of what you pay for, it is worth it.
Because you will be shelling out some money for a moving service, it is right to know more about them before hiring one.
Pros and Cons of Hiring a Moving Professional
If it is your first time hiring a moving professional, you should know what to expect. After all, it is just right because you are paying for its services.
There are tons of advantages to hiring a moving professional. Some of them are already obvious because you do not have to be in-debt with your relatives and friends by asking for their help. If you hire a moving professional, you do not have to owe anyone some gratitude, and you do not even have to bother your loved ones from their busy lives. The movers do it whether they like it or not because it is their job, and you pay them for doing it.
Because you pay a moving company, you can upgrade your standards. Expect that you will save time and energy. If you hire an excellent and reputable company, its movers will handle your belongings well because they know how to pack, and they will not bump them to walls.
Reputable companies also guarantee that none of your items will break. Because of this guarantee, you can expect that they will refund you if the movers happen to break one carelessly.
However, despite the attractive offers, a moving professional can offer, face the fact that it is not all unicorns and rainbows. You should accept that you have to entrust your possessions to strangers, you have to be professional, and you need to pay a hefty amount of money that includes the tips and treats to give to the movers.
Pros and Cons of Doing-It-Yourself Your Move
If you are broke, you do not have any other choice but to move your stuff yourself. It is not all bad because you can still enjoy some benefits of it.
One of these benefits is that you have total control. You do not have to worry about other people touching or breaking your stuff because the moving is all at your responsibility. You also have the freedom to be late or early than your decided schedule, and you can pack your stuff, however, you want. You save some money too.
However, these benefits have downsides too. Because you will be doing everything yourself, you should prepare yourself to do some heavy lifting. You also have to thoroughly plan everything to make sure that nothing can go wrong. Unexpected and unwelcome surprises can happen when you are already moving out of your old house.
Tips for Moving Help
If you think that hiring a moving company is a better decision for your circumstance, there are some tips that you should know about moving help.
One piece of advice is to create an inventory of your possessions. It should include all the necessary details, such as the name and classification of each of your belongings, the cost, the designated place, etc. It would help if you also estimate the cost and value of each of your possessions.
Before the movers come into your place, it is essential to prepare your stuff too. It will be helpful and safe for the movers if you can get rid of the drawers and shelves that might fall into their heads. If you cannot remove them, tape them securely.
For more helpful tips, check out how to find the best movers
Find Out What They Can and Cannot Move.
Part of the things you should do before the movers arrive at your doorstep is to know the services' limitations. Even though it is their job to move stuff, they set boundaries on what they can carry. The following are examples of the property that they do not move.
Hazardous materials (ammonia, chemicals, corrosives, etc.)
Flammables and explosives (aerosols, firecrackers, paint, etc.)
Pets and plants
Perishable items
Although moving companies do not have the policy about valuables' transport, it is common sense that you should be the one to do it.
Lastly, if you're moving to a home or high rise building, ensure that the home has ample space or ways to bring in heavy items and furniture, and if moving to a high rise, ensure that the building has a freight elevator.
What Other Services Are Offered
If it is your first time to move and you have some spare money to spend, it will be an excellent idea to avail some of the moving company's additional services to cut you some extra work. Some different services are useful for the move, and that includes challenging maneuvering.
It is an extra service that you should consider, especially if you have large furniture that cannot fit through your doors. The movers will do the maneuvering to transport it to another place.
They also offer storage, which helps with a long-distance gap between your old home and the new one. Cleaning services are a part of the extras to eliminate the debris and dust caused by the move.
Its other services include disassembly and reassembly, packing, and handling fragile items.
Before moving, here are our top 15 things on what to do before moving
Inquire About Their Pricing Structure
Several factors affect the cost, one of which is the distance of the move. If the new location is close to your home, it will be cheaper than the long-distance one. Commonly, there are three different types of pricing structures that movers use.
The first one is the local move that refers to the distance of not more than 90 miles. Most companies ask for an hourly rate, although some offer a flat rate, their pricing structure is a secret to everyone.
What the structure commonly consists of aside from the payment per hour are the following:
Material fees
Sales tax
Insurance premium
Fuel surcharge
Craning charge
Large item fee
Crating fee
Per stair surcharge
Disposal charge
Storage charge
Overnight hold fee
The second is an interstate move that goes beyond 90 miles. Moving companies charge based on the binding estimate and weight of your possessions.
The third is international move, wherein the company charges you by the volume of your possessions, but it still depends on the company.
Our last tip is to find out if their pricing structure includes tips. If not, you should consider setting aside some extra cash for tipping your movers
Is Your Estimate Binding?
When it comes to the estimates, you should know the different types of calculations various movers use, so you will learn how much to pay.
Binding estimate refers to the flat fee that you have to pay even if your cargo exceeds or weighs less than the estimated weight. However, the mover can revise the estimate later if you decide to add more or ask for extra services.
Some movers have the not-to-exceed estimate type. It works when the movers provide price protection based on the actual cost of the possession or the binding estimate, depending on which is lower. The movers will present it to you in a written form.
What makes it different from the binding estimate is that you do not have to pay for more if the weight exceeded. However, if the actual value is less than the forecast, you will have to pay less. Because of this, the not-to-exceed estimate is the best option.
The non-binding is less common because of the room for additional unwanted fees. It works when a mover sets a price that is not binding but only estimates your belongings' weight. There is a tendency that you will have to pay the estimated cost and 10 percent of it more if your possessions weigh more than the estimated value.
What Kind of Equipment Do Movers Use
Professional movers use different types of equipment for moving your items. These are essential so that they can transport even the ones that require challenging maneuvering.
One of them is hoisting straps.
These straps are the movers used to hoist your stuff that cannot get through your door.
Movers also use dollies and crates. They use them to transport multiple stuff simultaneously and transport heavy stuff securely, efficiently, and quickly.
You can also find a pallet jack among their equipment. They use it to lift heavy stuff that seems impossible for one man to lift.
The ramps are also one of the movers' equipment. Instead of going up or down the stairs, movers use a ramp to transport your stuff. It also makes it faster for the movers to move your item because they can connect it directly to the truck.
Aside from this equipment, the movers use essential tools, which can be useful for disassembling and assembling your stuff.
Make Sure They Are Fully Insured
The truth is moving companies do not have the right to sell or offer insurance. People often mistake insurance for what the moving companies provide as valuation because they work the same way. Valuation works by assuring the customers that the moving company will pay your belongings that their movers lost or damaged during the transport.
Reputable companies offer valuation, and it comes in two types: full value and released value protection.
The released value protection is a type of coverage that you should not go for, especially if you own lightweight and expensive items. It works when a company is only willing to compensate cents per pound.
For example, a company is willing to pay 0.60 USD per pound for the released value protection. However, it is your 10-pound, 1000 USD porcelain china vase that its movers broke. The company will only pay 6 USD for the damage without any replacement and repair.
The full-value protection is the better choice because here, the company is willing to pay the damaged goods at the full amount based on your declared value. However, you need to pay the premium first, and moving companies have their set of limitations on this type of coverage.
It is crucial to ask the company about it.
Find Out Exactly What Is Included
If you choose a moving company's full-service, you need to know its scope to maximize your payment value. When you choose full service, the movers should do the following.
The movers should supply all the materials needed for transporting your goods. It includes paper, boxes, bubble wrap, and shipping supplies, such as paddling. It does not mean that you should do all the job of packaging your stuff because they provided them. The movers should be the ones to do it too.
The movers should disassemble and assemble some of your stuff. They should be the ones to produce the tools to do these tasks.
As expected, the movers are the ones who should do the carrying, the lifting, and the transporting of your stuff.
When the movers reach your destination, they will do the unpacking of your belongings too.
Lastly, the movers should do the cleaning. They should dispose of all the tapes, plastics, bubble wraps, boxes, and cardboard that they used to move your stuff.
Ask for References and Referrals
Moving services provide tremendous help to people who need to transport their belongings. They save people from having to lift and carry the heavy stuff.
However, some moving services are rogue. These services do not guarantee your beloved belongings' safety and protection, so you need to be wary of them.
What better way to get the best moving services than through referrals from your family and friends? You can guarantee that someone had a positive experience working with these movers through references and referrals, which can benefit you.
What About Background Checks
Aside from references and referrals, you should do a background check too. It is to make sure that your friend is not only referring to a friend who has no job at a time or running a rogue moving business.
As for the background check the credentials, such as having a USDOT number, which you can verify from the Federal Motor Carrier Safety Association (FMCSA) website. You may also visit websites such as MovingScam to find out if the moving company has a bad reputation.
You may also check other customers' reviews
Other Services to Consider
If you move-in and move-out of a house, you can expect tons of garbage, dust, and dirt throughout the process. That is why you may also want to consider hiring cleaning services.
There are tons of cleaning services out there dedicated to those people who need to transport their goods. Among them is the Long Island Maids.